Senate Report Exposes Dealings Between Biden's Son and Businessmen Connected to Chinese Regime
BY FRANK FANG September 24, 2020 Updated: September 30, 2020Print
Robert Hunter Biden, son of former U.S. Vice President Joe Biden, made millions of dollars worth of "questionable transactions" with Chinese nationals connected to the Chinese regime and military, according to a new congressional report.
Hunter Biden began developing associations with Chinese nationals beginning in at least 2009, the year he co-founded the U.S. investment and advisory firm Rosemont Seneca Partners. According to the report, these financial connections "accelerated while his father was vice president and continued after he left office."
Joe Biden was vice president during the Obama administration, from 2009 to 2017. He's currently the Democratic Party candidate for the upcoming presidential election in November.
The other founders of Rosemont Seneca Partners were Chris Heinz, the stepson of former U.S. Secretary of State John Kerry, and Devon Archer, one of Hunter Biden's business partners.
The report, released on Sept. 23, was authored by two Senate committees: Homeland Security and Governmental Affairs, and the Department of Finance.
In response, Joe Biden's campaign spokesman Andrew Bates said the Senate report was using taxpayer dollars to launch "an attack founded on a long-disproven, hardcore rightwing conspiracy theory."
Beijing-Friendly Businessmen
Two Chinese nationals became prominent in Hunter Biden's financial network with China: disgraced Chinese oil tycoon Ye Jianming and Asia-based financier Dong Gongwen. According to the report, Dong was Ye's business associate and executed transactions for Ye's companies.
Hunter Biden made millions from his relationship with Ye and received millions from Dong's companies, the report found.
"Ye and his associates had robust relationships with China's military units, some of which were involved in matters in direct opposition to U.S. policy in the region," the Senate report stated.
Ye founded CEFC China Energy, an oil conglomerate that made billions of dollars in Russia, eastern Europe, and parts of Africa.
It became China's largest privately held oil company before it was caught in Beijing's crosshairs in 2018. Ye was placed under investigation in February 2018 for "suspected economic crimes" and subsequently detained. His current whereabouts remain unknown. A state-owned enterprise took control of CEFC in March 2018.
In addition to shady business practices, the oil company hired former military cadres and leveraged such connections to advance itself, according to Chinese media exposés.
Ye also served as deputy secretary-general of the China Association for International Friendly Contact (CAIFC) from 2003 to 2005.
The association is a front group for the Chinese military's former General Political Department (GPD), a political organ within the Central Military Commission—the Chinese Communist Party agency that controls the military, according to a 2018 report published by the U.S.–China Economic and Security Review Commission (USCC). The GPD was replaced by a new agency called the Political Work Department in 2016.
According to USCC, CAIFC is responsible for collecting intelligence and conducting propaganda and perception management campaigns.
Transactions With Biden
The new Senate report identified a transaction of "potential criminal financial activity" in August 2017, when CEFC Infrastructure Investment (US) LLC, a subsidiary of CEFC China Energy, sent a payment of $100,000 to Hunter Biden's Washington-based law firm Owasco. It is unclear what the money was for.
Another incident the Senate identified as "potential financial criminal activity" took place in September 2017, when Hunter Biden and Dong opened a line of credit at a bank under a business named Hudson West III LLC.
The credit was made available to Hunter Biden, James Biden, and James Biden's wife Sara Biden. James Biden is Joe Biden's brother.
"The Bidens subsequently used the credit cards they opened to purchase $101,291.46 worth of extravagant items, including airline tickets and multiple items at Apple Inc. stores, pharmacies, hotels, and restaurants," the Senate report stated.
Millions went from CEFC Infrastructure Investment to Hudson West III and then to Owasco. On Aug. 8, 2017, CEFC Infrastructure Investment wired $5 million to Hudson West III's bank account. From Aug. 8, 2017, to Sept. 25, 2018, Hudson West III sent more than $4.79 million in the name of consulting fees to Owasco.
Hudson West III was 1 of 8 numbered Hudson West business entities, and the Senate report found that Dong was connected to seven of them. The report didn't elaborate on the connections, and it's unclear whether Hunter Biden is connected to the other Hudson West firms.
Patrick Ho, a Hong Kong-based businessman who served as secretary-general of a CEFC subsidiary, China Energy Fund Committee, was also Hunter Biden's client at Owasco, according to the Senate report.
Ho is also implicated in CEFC's misdeeds. He was charged by U.S. prosecutors of bribing top officials in Chad and Uganda in exchange for business opportunities for CEFC.
On March 22, 2018, months before Ho was to go on trial, a $1 million payment was sent from Hudson West III to Owasco for Ho's legal representation, the Senate report found.
Ho was sentenced to three years in prison in March 2019 on several charges including money laundering and violating the Foreign Corrupt Practice Act, according to a Department of Justice press release. He was freed in June this year, with the judge shortening his incarceration time after he demonstrated good behavior.
The Senate committees said the financial ties between Hunter Biden, his family, and the Chinese nationals "don't just raise conflicts of interest concerns, they raise criminal financial, counterintelligence, and extortion concerns."
The Joe Biden campaign didn't immediately return a request for comment on the transactions with Chinese individuals.
Rep. Jim Jordan (R-Ohio) on Sept. 24 sent a letter to FBI Director Christopher Wray asking if the agency will investigate certain findings of the report, including Hunter Biden's Chinese transactions involving potential criminal activity.
FBI Allegedly Obtained Hunter Biden Computer, Data on Ukraine Dealings, Report Claims
BY ZACHARY STIEBER October 14, 2020 Updated: October 14, 2020Print
The FBI allegedly obtained a laptop computer and a hard drive that had emails addressed to and photographs of Hunter Biden, Democratic presidential nominee Joe Biden's son, according to an alleged subpoena and other documents published on Oct. 14 by the New York Post.
Biden's campaign challenged aspects of the reporting, including the alleged existence of a meeting with a top official at Burisma Holdings.
The alleged subpoena from the U.S. District Court for the District of Delaware, dated Dec. 9, 2019, is for an Apple MacBook Pro and an external hard drive.
The subpoena was issued to the owner of an electronics store in Delaware, where the computer was dropped off in April 2019, the store's owner, who wasn't named, allegedly told the Post.
The billing information allegedly given for the computer was Hunter Biden's name and the computer allegedly bore a sticker from the Beau Biden Foundation, which was named after Hunter Biden's late brother. The store's owner allegedly said the computer and hard drive were seized by the FBI after he alerted authorities to them.
The Post said it obtained a copy of the hard drive from Rudy Giuliani, President Donald Trump's personal lawyer.
Giuliani shared the story on Twitter on Oct. 14, promising "much more to come." During an Oct. 14 appearance on "War Room: Pandemic," Giuliani said the document release "shows the motive" for Biden's admission in 2018 regarding Ukraine.
Biden was the Obama administration's point man on Ukraine, which he confirmed in detail during a talk in 2018.
Biden recounted how in 2015, during a trip to the country, he pressured Ukrainian President Petro Poroshenko and Prime Minister Arseniy Yatsenyuk into removing Prosecutor General Viktor Shokin by threatening not to give a $1 billion loan guarantee.
"I looked at them and said: I'm leaving in six hours. If the prosecutor is not fired, you're not getting the money," Biden said during a Council on Foreign Relations event. "Well, son of a [expletive]. He got fired."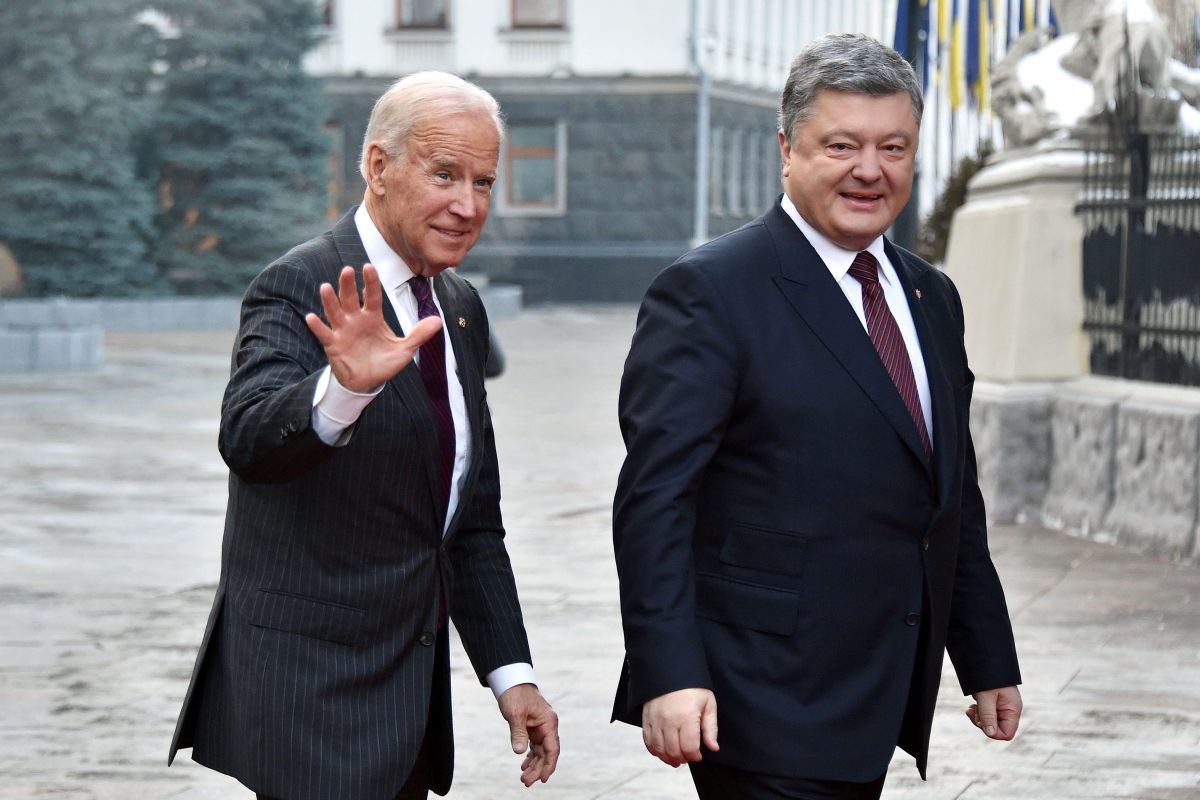 "There's so much evidence against Joe Biden that it is a national scandal that this wasn't covered years ago," Giuliani said on Oct. 14.
A spokeswoman for Giuliani declined to give a hard drive copy to The Epoch Times.
Trump cited Biden's comments when defending his 2019 request to Ukraine's president to have what happened with the Bidens probed, a request that led to the House of Representatives impeaching him in late 2019 because lawmakers argued it was improper.
Trump campaign communications director Tim Murtaugh said the documents show Biden lied when saying he never discussed Hunter Biden's business deals.
An FBI spokesperson told The Epoch Times in an emailed statement, "We have no comment, in keeping with our standard practice of neither confirming nor denying the existence of our investigations."
A spokeswoman for the U.S. Attorney's Office for the District of Delaware told The Epoch Times via email, "Pursuant to DOJ policy, my office can neither confirm nor deny the existence of an investigation."
An inquiry sent to Hunter Biden's lawyer wasn't returned.
Biden's campaign called a lid, or said the nominee wasn't appearing in public for the day, a few hours after the story was published.
A spokesperson for the Senate Homeland Security and Governmental Affairs Committee, which has been probing Hunter and Joe Biden's past actions, confirmed to The Epoch Times that the committee received an email complaint to its whistleblower account and is working to validate the information.
"There are so many red flags about the Biden family trying to cash in on the Vice President's position that it can be hard to keep them straight," committee Chairman Ron Johnson (R-Wis.) said in a statement.
"Today's report raises more questions that must be resolved. What we know for a fact is that Hunter Biden took millions of dollars from foreign nationals including, the wife of the former Mayor of Moscow, people tied to the Chinese Communist Party, and other unsavory characters. Joe Biden needs to finally come clean and tell the truth to the American people about all of these issues, and he needs to do it now."
Documents published by the Post included alleged emails from Vadym Pozharskyi, at the time an adviser to the board of Burisma Holdings, the Ukranian-based energy company that paid Hunter Biden to sit on its board while his father was vice president of the United States.
"Dear Hunter, thank you for inviting me to DC and giving an opportunity to meet your father and spent some together [sic]," the message allegedly sent by Pozharskyi read.
Pozharskyi didn't respond to a request for comment.
Joe Biden has said he has never spoken to his son about his business dealings, though Hunter Biden has said he did speak to his father about Burisma.
Jan Jekielek contributed to this report.
Correction: A previous version of this article mischaracterized The Epoch Times' verification of the claims published by the New York Post. The Epoch Times regrets the errors.Follow Zachary on Twitter: @zackstieber